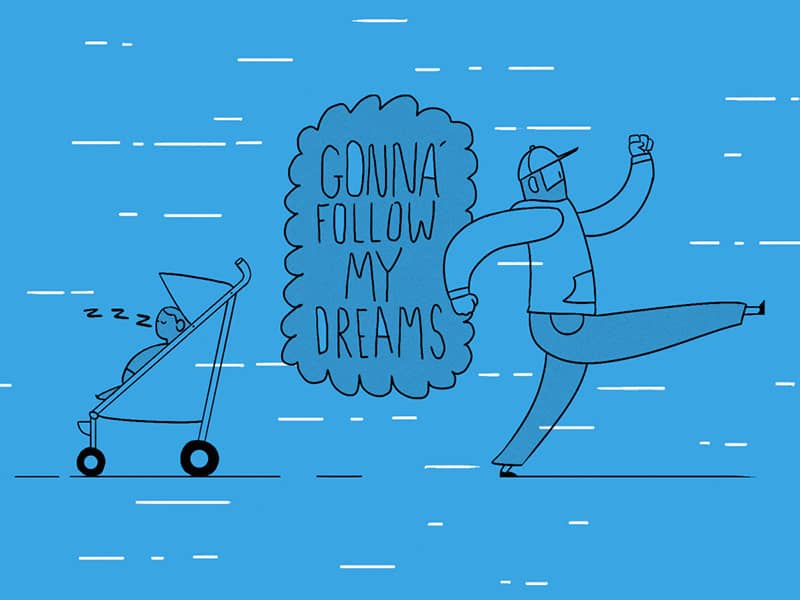 The Reluctant Sacrifice of a Father
I wasn't always what could be considered a good father. This journey has been daunting (and rewarding). As a matter of fact, I'm still evolving every single day.
When I tell you it's been the most humbling experience ever—I am not blowing smoke in places where it's uncomfortable.
At one point in my life, being a father felt like one of the most gut-wrenching, yet unappreciated positions to be in. Like a punter on a football team (no one cares about the punter until he messes up). To make matter worse, it's even considered disrespectful to be tackled by one on a punt return. Or, an equipment manager on a basketball team that spends most of his time around sweaty jerseys and the unbearable, festering malodor of compression shorts.
Hindsight is 20/20
Yes, I felt that way. Especially, through the first year of my first-born son's life. It was a struggle, to say the least. I'd even wager a lot of fathers have felt this way at different points during the life of their child. Furthermore, nothing can prepare you for parenthood and the roller coaster of emotions you will encounter.
Consequently, I remember thinking of my career, and the changes I would have to make — and not wanting to make them. I definitely did not want to let the idea of being an entrepreneur become the dream destroyed. To put it another way, I didn't want to be a father.
Should've thought about that before the unprotected sexual incursion into her bedroom.
At the time, did I think I was selfish? Definitely—not. I didn't have this natural fatherly instinct that I'd heard about. As a matter of fact, I also didn't have the foresight to see my dream was actually deferred not destroyed—and the birth of my son would give me additional motivation and clarity through one of the biggest challenges of my life.
I was scared sh_tless
Depression in dads is, in fact, a relatively common phenomenon―affecting anywhere between 2% and 25% of them during their partner's pregnancy or in the first year postpartum.
This rate can increase to 50% when the mother also has perinatal/postpartum depression. And it can take a serious toll on the family's wellbeing, specifically their children's.
Men may show different signs of depression. They may not cry but feel frustrated and angry. The depression may manifest itself in terms of irritability, impulsivity, and feeling unable to find pleasure in anything. Depressed fathers are more likely to engage in substance use, domestic violence, and discourage their partner from breastfeeding and/or breast pumping.
A Fathers Humility
Like a specter, my depression haunted me. It was reoccurring because I had not dealt with it. As a result, I was the source of a seemingly insatiable hunger for my spirit. Having a child threw me right back into a state of helplessness and desolation after a tough breakup a year prior.
It is important to remember, depression is a parasite that will live off of your energy if you don't burn it off. Moreover, during that time, I didn't even know I was depressed. All I could do was think about the sacrifice I was making. Not once did it cross my mind that his mother is also making sacrifices. I slowly but surely began to realize she had dreams and ambitions that were placed on the back burner just like me.
With the above newfound wisdom, it still took almost a year after my son was born for me to figure this out.
Reluctantly, certain career moves were put on pause.
Under these circumstances, I had to grow up immediately.